With the development of new technologies, the way of learning is also enhancing day by day. Today, the education system is not restricted by any geographical boundaries, all one needs is the internet and a smartphone. 
Many educational institutes have started the concept of virtual learning. And, it would not be wrong to say that eLearning is the new normal in the education system. The following trend has increased the demand for eLearning app development.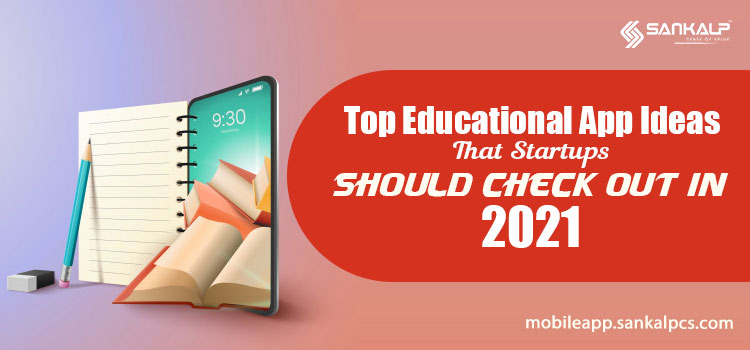 Here are top educational app ideas that startups should check out in 2021!
eLearning has been increasingly growing in recent years. Since the pandemic has emerged, people have started understanding the concept of e-learning. It has transformed the traditional learning process into a modern approach. Children in rural areas can also experience quality education from top-class educators through eLearning platforms.
Educational app ideas have given a path to the education system to understand online marketing.
There was a time when the education system was majorly bleak because of several reasons. But eLearning has turned out to be an evolutionary concept, potentially shaping the Indian education system in different ways.
The scope of searching for jobs has increased and provided a path for the candidates to focus on their careers. According to reports, around 5.8 million students registered for online courses back in 2016. In 2021, online education has increased to 9.5 million users, which is phenomenal
Let's move ahead with the educational app ideas for startups in 2021. If you are an educational entrepreneur planning to launch your app, ideas can generate some ideas.
1. Educational App Development for Handicapped Children
Any educational technology company, university, school, or college can consider this idea to create an application for disabled children. It can turn out to be one of the best educational app ideas for startups. This app will help physically challenged children study and learn different subjective areas from the comfort of their houses.
It will especially help children who cannot walk or are not able to attend daily classes.  They can use this app for connecting with educators every day and participate in live sessions. It will enhance their regular learning process by allowing them to choose the right way to understand the concepts easily.
2. Vocabulary App Development
Candidates who apply for competitive exams such as UPSC, SAT, etc., need to improve their vocabulary skills to attain success. It is one of the top educational app ideas that will improve English and help with learning new words. It will correct the pronunciation, spelling, phases, and more.
In addition, you can also consider adding flashcard elements and add some tools to measure the growth of the people using them.
Earlier, people used to keep a pocket dictionary, but now you have the solution to this problem. Users can make their studies fun and educational at the same time.
3. Language Learning App Development
Language learning applications helps children to stay in the competition, along with helping them with new languages. Additional language opens various job opportunities for students when it comes to finding jobs. Students can also apply to various countries for educational purposes or different courses. The best part is students can learn more than one language from the comfort of their home.
One would not have to spend a lot of money on transport or courses. Besides, it will also help teachers learn different languages, which can also become an additional source of income. It is one of the new ideas for educational app startups in 2021.
4. Career Guidance App Development
Many educators do not get proper educational guidance after grade 12 because of confusion in choosing a career path. It is one of the educational app ideas for startups that will help students make the right choices regarding their careers. Due to lack of guidance, students may choose the wrong subjects without thinking of their interests.
To make it more advanced, you can add additional features to consult their problems. You can also include subject-related counseling with the intent to make them choose the right career subject. This kind of application will help students turn their dreams into reality.
These are some of the top educational app ideas that startups should check out in 2021. Once you are final with your choices, reach out to a prominent education app development company to turn your vision into actuality. Go ahead with the trend, and join the new revolution!